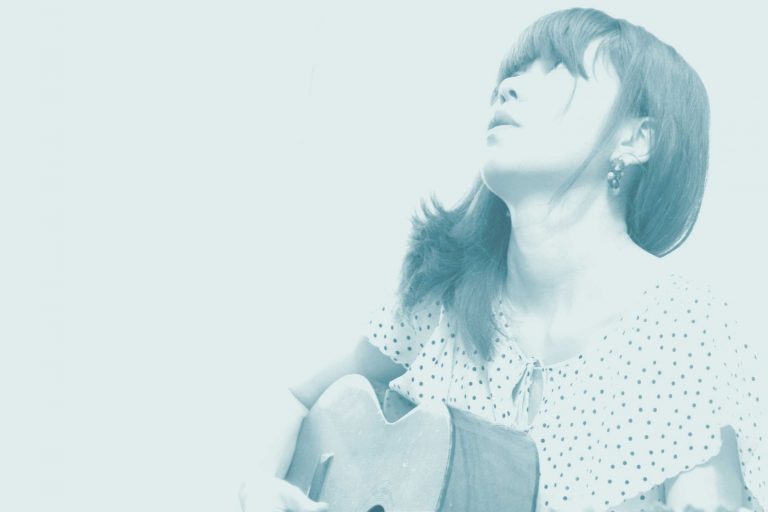 Born in 1978, grew up in Sapporo, Japan, Moskitoo is a sound designer and vocalist based in Tokyo.
In 2007, Moskitoo released her debut album "Drape" on New York's 12k.
Moskitoo creates her own musical world using everyday instruments and objects like guitars, xylophones, and toys, to produce a style where electronic sounds and the harmonic layer of her unique voice meet.
Moskitoo toured Japan as well as the world, playing a lot of shows including France, Belgium, Switzerland, New York, Boston, Canada, Australia, Denmark and Korea.
日本を拠点に活動するサウンドアーティスト、ヴォーカリスト。1978年東京に生まれ、札幌で育つ。
2007年ニューヨークの名門レーベル『12k』より『DRAPE』でソロデビュー。
倍音のような広がりを持つ自身の歌声を基点に、様々なオブジェクトや楽器の音、電子音とを交錯させながら、
幻想的でアブストラクトな独自の楽曲世界を構築している。
これまでにフランス、スイス、オランダ、スコットランド、ベルギー、ニューヨーク、ボストン、カナダ、オーストラリア、デンマーク、韓国などのイベントに招待され、海外ツアーも多数行なってきている。
ソロ活動の他、FilFlaのボーカルとしてアルバムやライブに参加。
国内外の多数のアーティストとのコラボレーションや、ラジオ・テレビCMでの歌唱やナレーション、デザインなど多岐に渡って活動している。
最新作はminamoとのコラボレーション・アルバム"Superstition"(2020年/12k label)。
Moskitoo Works
Moskitoo "Drape" (CD ALBUM/12k/2007)
Moskitoo "Mitosis" (CD ALBUM/12k/p*dis/2012)
REMIX "Moskitoo Remixes" (CD Single/12k/2007)
Moskitoo & Sanae Nishio "Si Sol E.P" (7inch EP/see recordings/2009)
Moskitoo & stabilo SPLIT EP "Pare Your Words" (Digital/FreeDL/2016)
Sontag Shogun & Moskitoo "The Things We Let Fall Apart / Thunderswan" (7inch/Home Normal/2017)
Minamo & Moskitoo "Superstitiom" (12inch/12k/2020)
Selected Collaboration Works
FilFla "Frolicfon" "Sound Fiction" (HEADZ/JP)
FilFla "FlipTap" (someone good/p*dis)
FilFla "Micro Carnival" (HEADZ/JP)
Gurun Gurun "Gurun Gurun"(HOME NORMAL)
Simon Scott "Navigare"(Miasmah Recordings)
FourColor "As Pleat"(12K)
Vegpher "Minutus"(progressive form)
Selected Commercial Works (Singing)
TOKYO FM News / Traffic Reoport
NHK World – "Artisan x Designer"
Y!mobile
Wacoal SUHADA / SUHADA ONE
ライオン 「hadakara(ハダカラ)」
ニベア花王 「8×4」
象印マホービン CI
日本電産 CI
アース製薬 CI
カネボウ 「エビータ」 ブランド サウンドロゴ
江崎グリコ HOBAL
ソニー銀行
Selected Tours
2007 Japan Tour (Tokyo, Kyoto, Nara, Osaka, Hiroshima)
2008 European Tour (Rotterdam, Amsterdam, Lyon, Geneva, Zurich, Colmar, Marseille, Ruben, Glasgow, Dordrecht)
2008 North America Tour (Boston, New York, Winnipeg, Canada)
2011 Australian Tour (Perth,Canberra,Sydney,Brisbane,and Cairns/Tour Organized by Room40)
2014 Mitosis Release Japan Tour (Tokyo, Kyoto, Fukuoka, Tagawa, Oita, Hiroshima, Kobe)
2015 Show in Korea (Festival Morph/Hongdae, Seoul)
2016 Show in Copenhagen,Denmark (Cherry Music 2016)
Original Music
iPad/iPhone 「音楽絵本 銀河鉄道の夜」楽曲制作
(宮沢賢治作、西念武志/L'AIR DE SAINEN製作・開発、2011年)
短編アニメーション作品 「the outline of everything : the second sense of touch」 楽曲製作
(監督:林勇気/2011年/7'00″/写真+コンピュータドローイング)
林勇気 映像作品展示「Planetarium」 楽曲制作
(監督:林勇気/2012年/展示会場:柏プラネタリウム/アートラインかしわ2012)
Biography
2007
Moskitoo "Drape" release(12k/US)
Moskitoo "Remixes"release(12k/US)
12k artists Japan Tour
2008
FilFla "Frolicfon" release(HEADZ/JP)
Remix for Miou Miou "Electronique"(Rally/JP)
Participation in V.A "the silence was warm vol.2"
European Tour
2009
Moskitoo & Sanae Nishio "Si Sol e.p." release(See Recordings/JP)
Participation in "FABRIQUE" (ROOM 40) -#3 Fourcolor
Participation in "NAVIGARE" Simon Scott (Miasmah Recordings) – #10 sound and voice
Participation in "88 Tapes" (kesh recordings)
2010
Participation in Gurun Gurun "Gurun Gurun"(Home Normal)
Participation in FilFla "Sound Fiction" Release
Remix for "DAYS OF BEING OF WILD AND KIND" (Nothigs 66/JP) – Moskitoo remix on #14
2011
Participation in Live V.A "Tasogare:Live in Tokyo"(12k/NYC)
Participation in FourColor "As Pleat" (HEADZ/JP)
Remix for flag.flog "Secrets of the lake" (murmur records/Nature Bliss)
Music production and composition for "Night on The Galactic Railroad・Music picture book" (for iPhone/iPad Music picture book/Ongaku Ehon)
story by Kenji Miyazawa, designed by Takeshi Sainen.
Australian Tour (Perth,Canberra,Sydney,Brisbane,and Cairns/Tour Organized by Room40)
2012
FilFla "Flip Tap" (Someone Good/AU)
Vegpher "Play" (Flyrec.)
Music for Short Film "THE OUTLINE OF EVERYTHING : THE SECOND SENSE OF TOUCH" Directed by Yuki Hayashi
2013
Moskitoo "Mitosis" Release
Vegpher "Plus"
Pawn "Portrait Re:Sketch"
Moskitoo Mitosis Release Concert in Planetalium × Alioth
LULL, 2013 – Sound installation curated by Taylor Deupree
2014
Moskitoo "Mitosis" Release (12k/US)
Keiichi Sugimoto "Play Music" *Singing for A-track 10, B-track 25
Music Video "FRAGMENTS OF JOURNEY"(dir:Yuki Hayashi) screened at Image Forum Festival2014/programF
(Tokyo,Kyoto,Fukuoka,Nagoya,Yokohama)
Mitosis Release Japan Tour (Tokyo,Kyoto,Fukuoka,Oita,Hiroshima,Kobe)
2015
Music Video "FRAGMENTS OF JOURNEY"(dir:Yuki Hayashi) screened at Film Festival in Germany Frankfurt "NIPPON CONNECTION"
Radio program "TOKYO FM News" *Singing
Radio program "TOKYO FM Traffic report" *Singing
Show in Korea (Festival Morph/Hongdae, Seoul)
2016
Show in Copenhagen,Denmark
FourColor "Ballet"(12k/Duenn) *Reading in tracks 3
Music Video "FRAGMENTS OF JOURNEY"(dir:Yuki Hayashi) screened at Kino"CinéMayence" in Germany Mainz.
ライオン 『hadakara(ハダカラ)』CM Sound Logo *Singing
花王『バブ』CM 「中村アン実感」篇 「いとうあさこ実感」篇 本編音楽、サウンドロゴ *Singing
カネボウ化粧品 『EVITA』CM Sound Logo*Singing
2017
Sontag Shogun & Moskitoo "The Things We Let Fall Apart / The Thunderswan" Release (Homenomal)
stabilo and Moskitoo "Pare Your Words"  (split EP/Digital)
アース製薬 CI *Singing
キユーピー 『サラダクラブ』 2017SS CM  *Singing
ワコール 『SUHADA(スハダ)』 2017SS CM *Singing
ニベア花王 『8×4』 2017SS CM SoungLogo *Singing
2018
Remix for Haco "Suiqoo" (Digital Album)
日本電産 TVCM Sound Logo *Singing
リバティ ジャパン(LIBERTY JAPAN)
「LIBERTY LONDON VIRTUAL FLAGSHIP STORE」*Singing
cleadew リペア&モイスト TVCM *Singing
ニベア花王「エイトフォー」Sound Logo *Singing
Y!mobile テレビCM「盛り盛り写真部」篇 *Singing
Wacoal 『SUHADA ONE』 2018SS TVCM *Singing
象印マホービン Zojirushi CI *Narration
江崎グリコ 『ホーバル』TVCM *Singing
AJINOMOTO 味の素KK「勝ち飯®」 からっぽのお皿は、勲章です。篇 CM *Singing
2019
FilFla "Micro Carnival"  (HEADZ/JP)
*tracks 2,13,16,21 : Vocal and voice material
*tracks 3,11,12,20 : Lyric, Co-Composed and Vocal
カネボウ コフレドール 19秋スイッチ・カラー TVCM *Singing
花王 ビオレ TEGOTAE てごたえ *Singing
東京美容外科 CI *Singing
Support Surface SS 2020 Collection *Guiter,Chorus with Sawako,Shin ARAKI(表慶館)
三井ショッピングパークポイント CM *Singing
LITALICO CI *Singing,Narration
LOWRYS FARM プロモーション動画 19SS *Singing
"FUND DRESS"コンセプトムービー *Singing
cleadew ファーストケア TVCM本編/Sound Logo *Singing
メディキュット TVCM *Singing
Wacoal『SUHADA ONE 』TVCM *Singing
ニッピコラーゲン化粧品 インフォマーシャル *Singing
2020
Minano & Moskitoo "Superstition" Release (12k/US)
Vegpher "Minutus"(PROGRESSIVE FOrM/JP) *M4, M6: Lyric, Co-Composed and Vocal, M8: Voice Materials
積水ハウス TVCM *Singing
トヨタモビリティ東京 CI *Singing
Tokyo FM Program『TOKYO FM NEWS』『ドライバーズ・インフォ』Sound Logo *Singing
Tokyo FM Program「エールを届けるラジオ便」Sound Logo *Narration
Cake.jp Web CM *Siniging
Square Japan Sound Logo *Singing